Understanding the trading patterns of trade customers is key to unlocking growth opportunities. 
Here's the why and how this would work at leading UK  trade & DIY supply specialist Toolstation
Toolstation is well placed to grow Market Share
The digitisation of business provides a wealth of opportunity. Opportunities to be able to grow sales and profits, but also to change how we do things for the betterment of our colleagues and customers.
It's time to get behind the hype and have a look at 4 key things you can do that will make a significant difference to your overall profitability:
Understand customer share and opportunity
Understand promotions and recommendation
Understand availability, ROCE & net return
Understand content and messaging
Everyday, your business is making decisions on where to put resource and which customers to invest in. This is based on our understanding of human behaviour and experience. From Customer Service colleagues to the field, from branches to online merchandising, decisions are being made on how best to serve the customer. Sometimes we focus on our advantage and sometimes with a judgement call to service customer needs based on our relationship and future revenue.
The calculation that goes into this is based on historic knowledge, type of customer, kind of jobs they do, frequency that we see them, how they manage their credit and their brand affinity for the supplies that they need.
All of these factors allow us to respond as humans.
We also know that because there is a local specialist supplier we may not be as competitive at a local level. Some local market requirements are powerful and are difficult to challenge for national brands.
The customers we have the largest Share Of Wallet (SOW) with are the ones whom we know what the addressable categories are that we sell for them. A roofer isn't going to buy a great deal of landscaping but is going to need a range of tools, timber, flashing, roofing nails. Similarly, for general builders, we can split first fix and second fix requirements down further and look at how customers move between suppliers for different categories.
Making the data human
Loft conversion companies in urban and suburban environments can also be your most profitable customers if you focus on getting price and availability correct on core lines that they need over and over again. The answer to what price and availability that needs to be will be in the data.
Being able to run these data points and come up with a series of categories and offers takes a lot of firepower. But this is exactly what we can now do. This enables us to have a clear Opportunity in £ value and basket numbers to be useful.
Coupling this with linear regression on predictability allows to put a value and category next to future visits. Where the two meet tells us where we need to activate our intervention, whether that is digitally or human or a combo. Indeed, communication preferences will be in your customer data and not necessarily in your 'preferences' silo.
You're not number one for everyone, yet
What we do know, for the majority of our customers, we are not their number one choice. Most tradespeople will know where the local and merchants are, and will have several trade accounts around a locality for convenience and also to spread credit and keep merchants on their toes. I'd argue this is where we can grow more profit, by getting on our toes a bit more.
We do know that per branch, we probably service 15-25% of our base really well. The others we probably don't know enough about or have found it difficult to engage with.
Give them a conversation
There is no point in giving your Roofers a Deal of the Week in Marshall's paving. Maybe if they're doing a roof terrace you say. You are better off getting your best roofing suppliers and saying, "Listen I've got thousands of roofers and builders who use your stuff. I know that 20% don't buy as often as they should and 50% buy less than I think we could go at. Support me more accurately with more targeted support and I can win more business."
By using the data and adjusting the amount of support at a customer level you are not giving up margin and you are growing sales.
With your Deals sheet as it is, you are able to match the right offer with the right customer and give you an idea of where the sales are going to come from. This predictability helps to know how you are going to attack.
By being able to advise branch managers, ecomm merchandisers and CRM managers as to the best offer for the right customer on a daily basis, this can change their world in terms of their customer conversations. It's no longer about 'have you got a job coming up that I can quote on' it's 'I've managed to change some prices for you on these key categories and we've got better availability now on those skus you like'.
You're doing them a favour, not the other way round.
We can also start to have the conversation with suppliers as to how they can help.
The Role of The Supplier
You also won't waste supplier goodwill. Typically suppliers aren't that bothered where customers buy the product, but they will care that their support £ are going to customers who need them to not use a competitor product. They should primarily work with you on making sure the category offer is right. And that's exactly where these techniques are so successful. 
In turn, for you, you can start to target rebate volumes, giving you a net net return. More sales, more profits. Once you get the category purchase you can then think about the own-brand switch.
Scripting, content and messaging
We're traders, so we don't want a load of automotons. But we do want to give sales guidance for everyone who needs it. Staff are difficult to train, experience is hard to get, some of our best customer facing staff get promoted to non-customer facing positions as we try and share the best practice.
But what if that best practise could be systemised into the daily hubbub?
Often, we are masters of the New Initiative, rather than a Continuous Improvement Pathway that takes into account how we exceed on customer service.
In merchanting and trade supplies, this is a 5 part process:
1. Identifying the customer & Proactively seeing what they need
2. Consistent pricing, help & knowledge, timely proactive activity
3. Smooth and consistent availability
4. Manageable and accurate admin
5. Follow up and proactive next action
All of these touchpoints and service operations can be automated and administered systematically to ensure that we continuously improve. If you mess up a customer order, even once, that can lead to a massive reduction in the lifetime value of that customer. Using OTIF is fine, but it can be a slightly loose definition and it often isn't reported at a customer level within the context of lifetime value or opportunity to grow.
What content works? 
We're able to help you understand which offers are working best for which types of customer. We can take this to another level where at a one-to-one level you can place the best content in front of the right customer at the right time. Of course, this has been the promise for a number of years, but with AI based models, this is now possible. 
The implications for this simplicity in execution are not only greater sales, but also reduced operational time with resource. This is the 'demanualisation' of processes that can release your thinkers from having to 'do' everything. The other implication is then being able to knit this back to the right product mix. How can that work in terms of net return and how that shapes up with preferred suppliers like Baxi and DeWalt? 
Six Month Action Plan
We'd suggest a 6 Month Plan for Sales Focus in 2021:
Opportunity, Predictability, Interventions
Data Strategy
Content, offer and messaging
Supplier/Cat Man/Net Return Analysis
Systemisation for growth
Ongoing refinement for profitability
You'd probably be curious as to what it actually is, how does this concept come to life? Well, its data and it's a way of easily accessing that data. 
Below is an illustration of what this might look like. This is your Customer Sales Focus slide. The idea is to have this information available to branches, either to action with the customer, or on their proactive call outs to customers.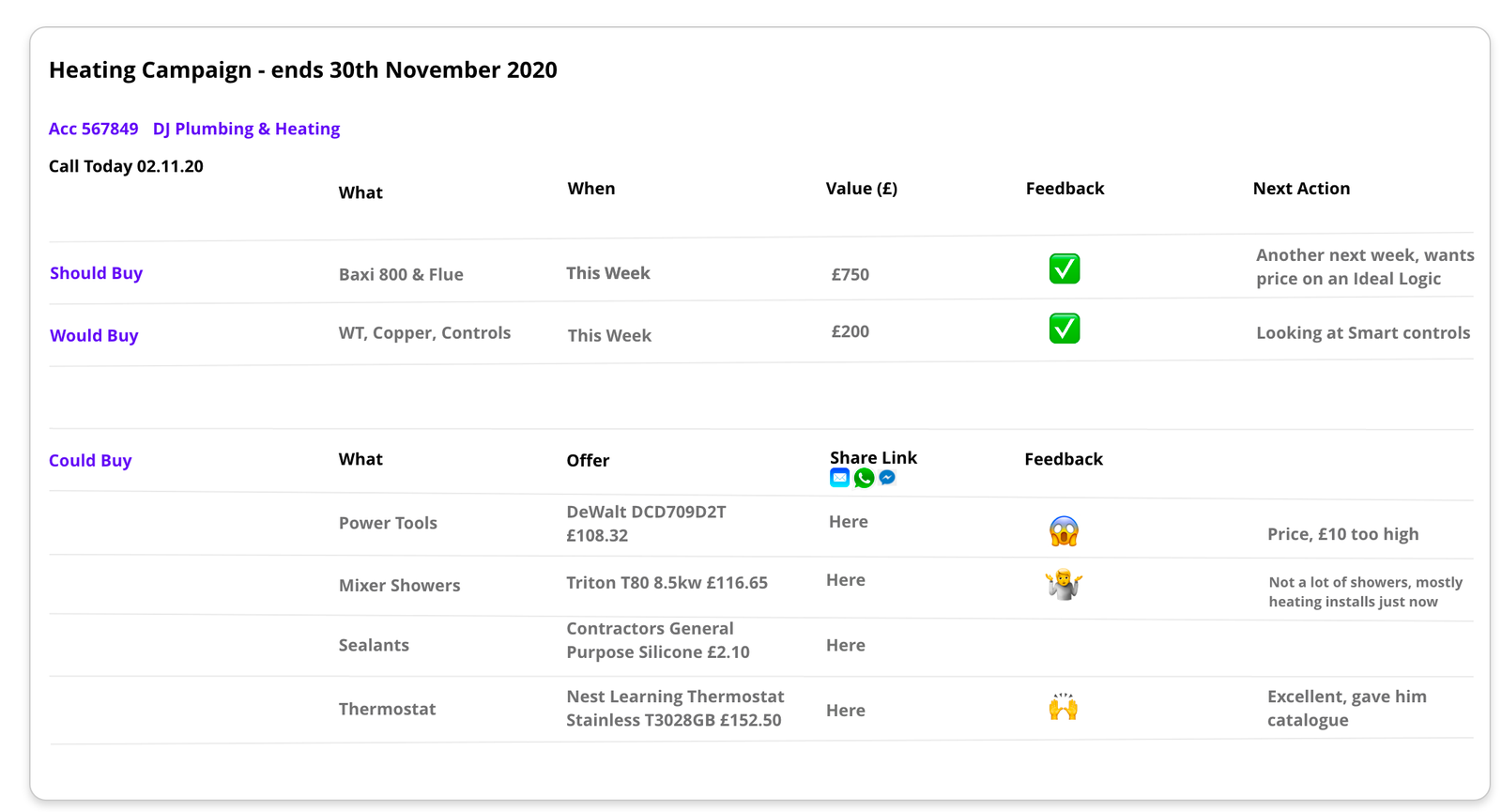 Clear and precise activity
The framework of "Should, Would, Could" helps colleagues to understand what supplies the customer should be buying and what time frame.
In this example, we are expecting to see a Baxi 800 with associated products to be bought this week, we are also suggesting that there are opportunities with tools, showers, consumables and smart controls.
The branch has offered their feedback in the right hand side columns. We use easy to know symbols for structured feedback and narrative text for deeper understanding. All of this is part of the feedback to refine the customer offer.
All this sales guidance is 90% accurate and is based on proven AI-based technology.
Toolstation is known for value, convenience and speed of service
Using smart technology, we can help you keep on top of customer needs. But also help the customers so they don't have to search all the time.
You can offer more, based on recommendations for the job, not just on Daily Offers. This is much more relevant for the customer.
Of course, once you have better demand forecasting and customer merchandising these techniques can better help you with your auto-replenishment models and high availability proposition, which in turn, improves ROCE in the longer term.
Hopefully this post has given you some ideas that can help Toolstation navigate the ever changing market landscape. 
On the whole, the future for the brand is increasingly positive, maybe some of these techniques can help you deliver even better numbers?