Our world-class products are tried and tested in demanding customer environments
Contact us and discuss how you can use our Artificial Intelligence (AI) based products to help enhance your business.
Our product offering helps you to keep focused on delivering business outcomes no matter where you are on the AI journey.
Our flagship product Utopia does exactly what it says on the tin. It creates a Utopia of data-driven, one-to-one marketing and sales effort.
Customer heartbeat is our proprietary AI data modelling tool to provide customer level behaviour, insights and opportunities – this is the heart of our artificial intelligence.
Superpowers are focused solutions for particular business problems. This is our menu of AI solutions for particular tasks that need improvement.
Utopia is our always-on, AI-based CRM engine that drives business value by providing actionable insights, predictive analytics and always-on, optimised engagement.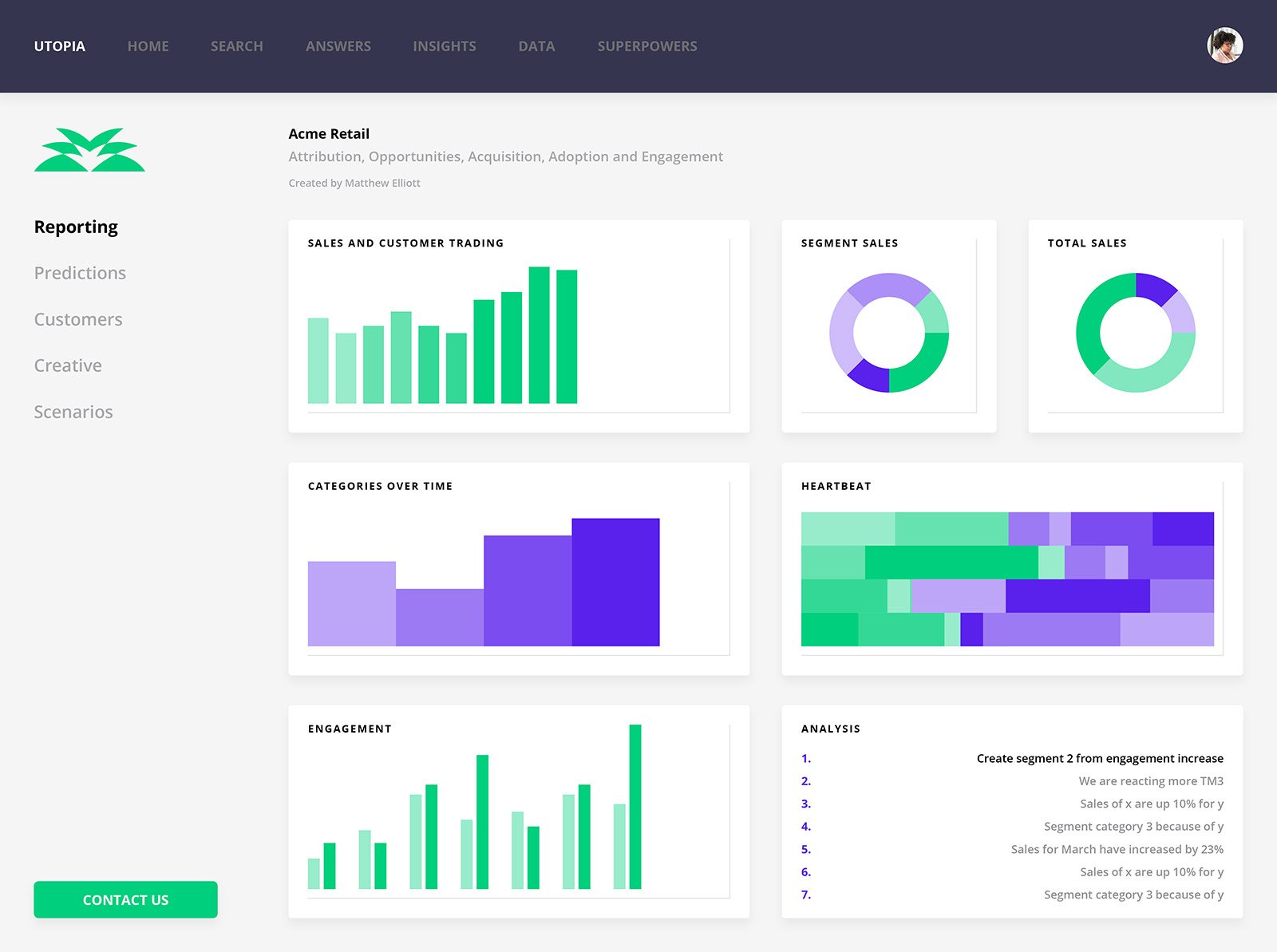 Customers need you to be relevant and you need to realise business value. Running campaigns and looking at segment uplift is no longer enough to generate return. Customers turn away and your brand looks tired. That's why percentage up or down changes and responses can be so low.
Utopia changes all that. Utopia not only gives you insight as to what is happening, but gives you foresight into what is likely to happen. The orchestration layer then enables you to correctly target the right customer with the right message at a time that is optimised for them.
You're always on, at the right time and you keep learning from there. Because Utopia is based on AI, your strategies will always be optimised for each customer, no matter where they are on their journey with you.
Customisable and scalable for your business, Utopia offers leading edge technology and robust data modelling to efficiently help drive your customer ecosystem. It's a war room, it's an intelligent marketing and sales system, it's a reporting and forecasting tool, it's your customer engagement orchestration system and it's your single customer view.
Data comes in, we process it and add intelligence. We then deploy it to the appropriate channel. You can create and deploy always-on engagements, thorough tests and see real-time forecasts and scenarios. 
This is all based on AI that is constantly learning and modifying to ensure improved performance. It takes what you do today and makes it a great deal better.
You have to know when customers are in-market and be able to respond. Personalisation is the key to keeping relevant and differentiating your offer.
On the spot reporting to save you time and effort. Automated analysis to help give meaning. Anomaly detection to flag changes.
More accurate forecasts with customer level analysis to offer next best action. Prioritisation guardrails keep strategies on track.
Seamless always-on engagement, optimised at customer and contact level. Right message, right time.
Email, SMS, SEO, Bot, advertising, social and content. Content management and optimisation.
Our microservices architecture enables us to get you up and running quickly, with little fuss.
What is Customer Heartbeat?
Customer Heartbeat is our leading edge proprietary data model, that allows you to plug in to our tools and use the outputs in your marketing stack.
Customer Heartbeat has been designed so you know exactly what is going on and what is most likely to happen. At a customer level, it helps you target next best offers, reduce churn, grow frequency and recency of specific categories and leverage both sales and margin. It's the Customer Heartbeat that drives growth in customer equity.
Some customers love you and are advocates, for some customers you are a distress purchase, for others you're a gift, infrequent but regular. Every customer is different and each customer has a different beat that changes over time.
Our Customer Heartbeat tool delivers deep insight at a customer level. These insights can then be used to deploy one-to-one messaging at the most appropriate time, with the most appropriate content. Across the lifecycle you will be able to track and predict customer behaviour and the impact on your business outcomes.
Customer Heartbeat lets you...
Find and onboard new customers easily – across all media and channels.
Increase lifetime value – leverage brand, relationships and value equity
Intervene appropriately to stop customers switching – predict when and why. 
Superpowers are focused solutions for particular business problems. This is our menu of AI solutions for particular tasks that need improvement.
Superpowers allow you to...
Look at a problem in a new way and use new tools to solve it. Test new ways out of the box to maximise learning.
Power up on a particular problem. Gain deep insights to be able to scale solutions for your business.
Boost your chances of success and maximise return. Delivery is fundamental and our team is here to help.
Superpowers allow you to simply and quickly squish particular problems that you may wish to solve. These are useful initial projects in order to see how AI can work in your organisation.
Messaging, visuals and promotions
Pricing incl Dynamic Pricing
Conversion Rate Optimisation (CRO)
Benefits of using Palm AI...
Palm AI's products and services have been designed to allow brands and other organisations to realise significant value by focussing on the customer and how to leverage on those relationships.
Focused on business outcomes not tech
Quick to start and deliver value
Customisable for your business
Highest quality work, great value costs
People first training to grow collaboration
Data-driven decision making and agile mindsets