Customer AI Business Products
Contact us and discuss how you can use our Artificial Intelligence (AI) based products to help enhance your business.
Our AI-based Business tools offering helps you to keep focused on delivering business outcomes no matter where you are on the AI journey.
Optimise end-to-end Business Planning. Use our AI-based platform to gain real insights
Understand your Customers and empower Sales
Superpowers are focused solutions for particular business problems. This is our menu of AI solutions for particular tasks that need improvement.
Utopia is our end-to-end Planning Tool. Actionable insights, predictive analytics and always-on, optimised Planning Management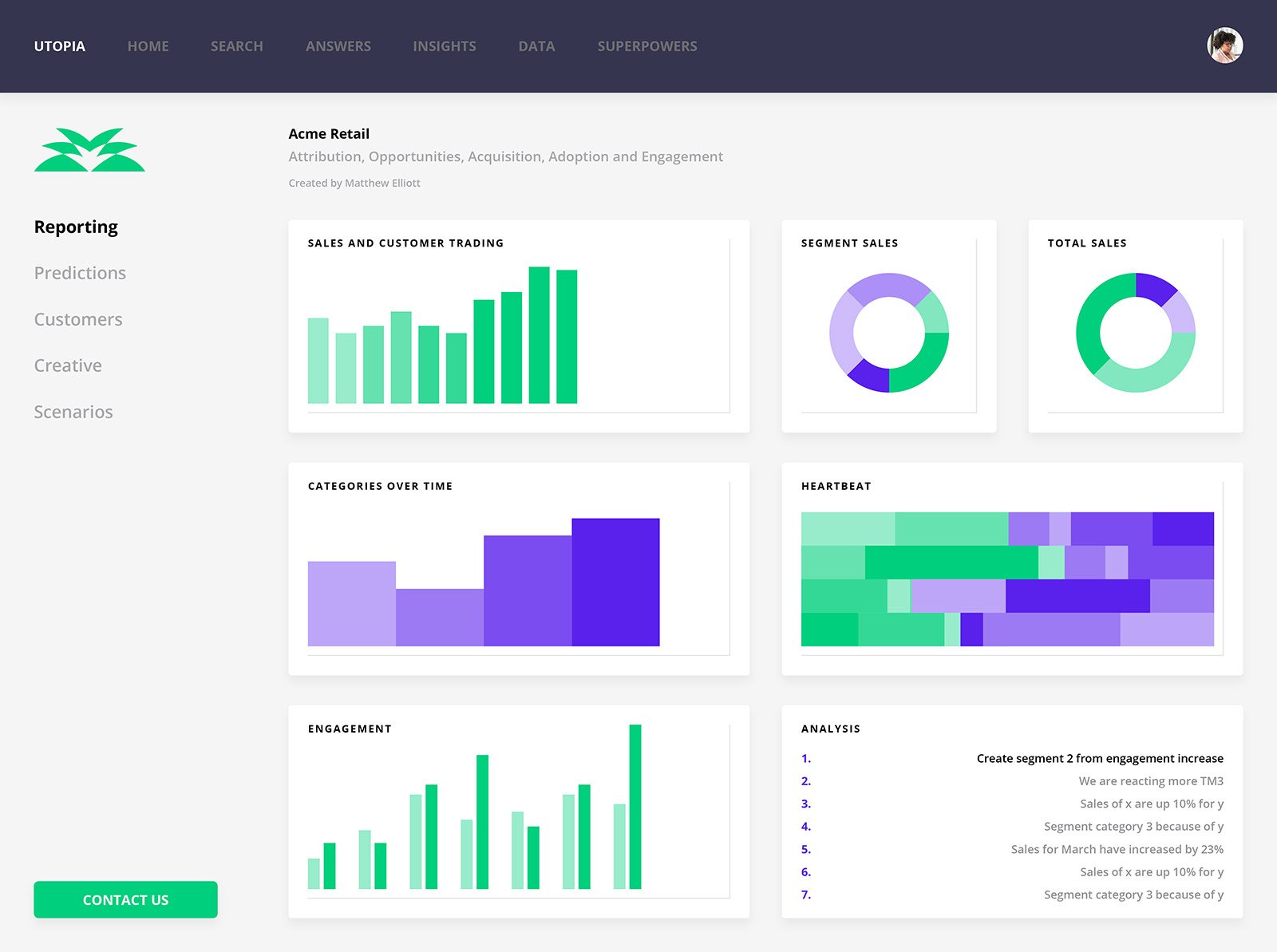 AI-based Planning is more accurate, faster and smarter than traditional tools. 
Typically, you will realise 10-15% improvements. 
This is due to 3 pillars:
You will have greater end-to-end visibility
You will have Scenario Planning capabilities that empower you to make better decisions
Your Master Data management will be significantly better and more automated
Customisable and scalable for your business, Utopia offers leading edge technology and robust data modelling to help drive your  Planning. It's a war room, it's an intelligent Sales & Operations system, it's a reporting and forecasting tool, it's your customer engagement system and it's your single view of the truth.
It takes what you do today and makes it a great deal better.
Without accuracy and precision Demand Planning is a waste of time. AI-based DP solves the problem. 
On the spot reporting to save you time and effort. Automated analysis to help give meaning. Anomaly detection to flag changes.
More accurate forecasts with customer level analysis to offer next best action. Prioritisation guardrails keep strategies on track.
Being able to automate prioritisation reduces the need for human input and error on critical deliverables. 
Understand how the customer journey impacts Demand and Supply planning as your channel mix changes
Our microservices architecture enables us to get you up and running quickly, with little fuss.
What is Customer Heartbeat?
Customer Heartbeat is what we put at the heart of our Planning solution.
We use AI to better understand how your customers behave. This opens up a wealth of opportunity for you and for them. 
Customer Heartbeat utilises your order data, transaction data, website and CRM data to understand how your customers behave, when, where, how and why they buy. 
We overlay this insight with contextual data that is relevant for your industry and markets. This builds a more complex, but simplified, version of your customer base. 
Makes you smarter, faster. 
Customer Heartbeat lets you...
Build opportunities to improve profits at a one-to-one level with customers 
Increase lifetime value – leverage brand, relationships and value equity
Intervene appropriately to stop customers switching – predict when and why. 
Superpowers are focused solutions for particular business problems. This is our menu of AI solutions for particular tasks that need improvement.
Superpowers allow you to...
Answer What if questions, move quickly, get answer
Power up on a particular problem. Gain deep insights to be able to scale solutions for your business.
Boost your chances of success and maximise return. Delivery is fundamental and our team is here to help.
Our Superpowers address particular problems that need fixing. They are designed for businesses that need help with particular problems. Our tools are ready to help.  
Range & Category Planning
Transportation scheduling
Marketing & Sales attribution
Sales Territory calibration
Customer Service Classification
Conversion Rate Optimisation (CRO)
Benefits of using Palm AI...
Palm AI's products and services have been designed to allow you to access the power of AI without large investments in people or technology.
Focused on business outcomes not tech
Quick to start and deliver value
Customisable for your business
Highest quality work, great value costs
People first training to grow collaboration
Data-driven decision making and agile mindsets